Brand Your Own METV Training Program
You can Brand Your Own METV Training Program
Put Your Logo & Your Name Above our training program.
All Your Clients will see Your Branding On Top when they buy from you.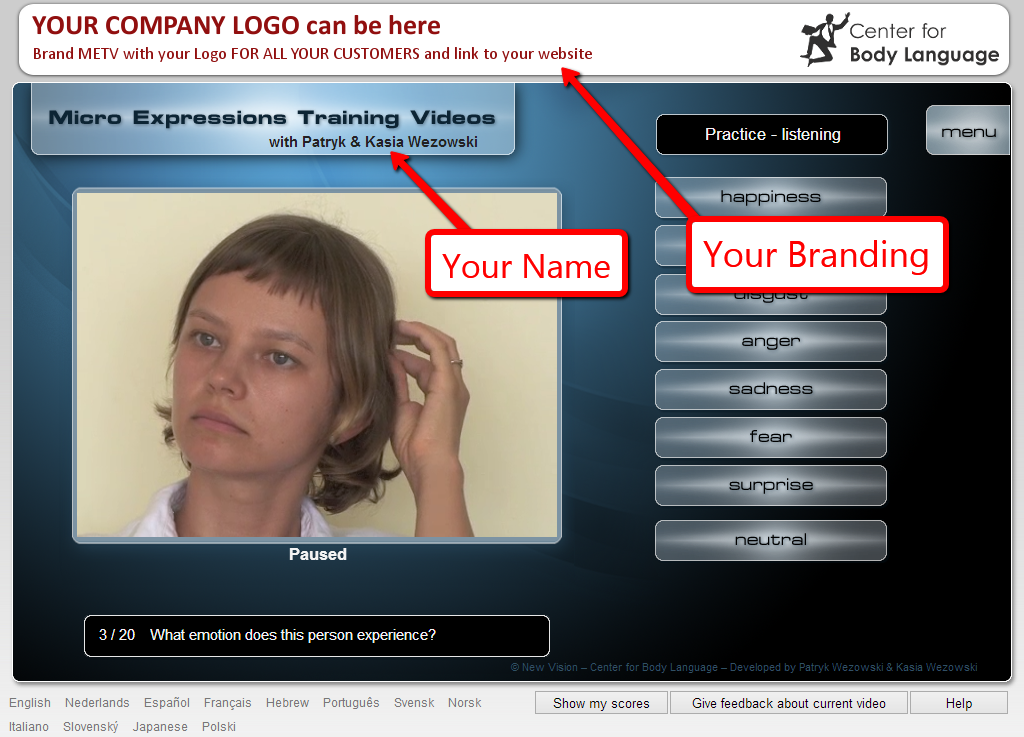 What do you think of adding the world's most advanced micro expressions training
to your portfolio – with Your Own Branding on top – with just a few clicks?
Customers will see Your Name, or Your Company Name and Your Logo
on top of our METV training program.
THE RESULT:
When people click on your banner, they will go to your website.
It looks like it's YOUR OWN training program.
Advantages:
Who buys METV from you, will see Your Logo on top of it. Forever.
Your Customers see our program as YOUR Program, because Your Branding is on Top.
When your clients click on your banner on top of our program, they go to your website.
Complement your own training program or course with our advanced METV program.
Use your own branded METV program in live presentations, training,…
Add our METV program as an Add-On to your existing (online) courses.
You can create your own banner, change it anytime or have us create your banner for you.
Your company is mentioned as a Reseller on our website.
Our program is currently available in 12 languages.
Earn commissions on every sale.
Add value to your offering and be able to charge more.
More about us:
| | |
| --- | --- |
| How to use Body Language to Predict any Contest: | Our presentation at Harvard University: |
Our Micro Expressions Training Videos (METV) program is the
world's first and only
training program that uses
real-time videos
to teach how to read facial expressions.
Why is METV so special?
As you can see in the above videos…
With METV you can increase your Emotional Intelligence with an average of 10%.
Sales Professionals who score well on METV, achieve 20% higher sales results.
| | |
| --- | --- |
| You can Brand our METV program: | Look inside our METV program: |
Interested?
Complete the form below. You will receive all details after we checked your experience.
We can only accept established companies, experts, speakers, coaches or trainers with a proven track record.