Sofie-Ann Bracke
Sofie-Ann Bracke is a certified Coach and Trainer in Body Language, and Partner of the Center for Body Language. She provides training and presentations on body language, micro-expressions and power moves (powerful body language) for businesses and organizations, as well as individual coaching.
Sofie's mission is to help people to develop a better awareness of body language and posture, thus improving their physical, emotional and mental well-being, as well as enhancing their human interactions in professional and social settings.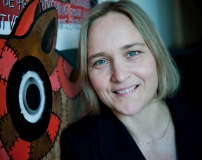 Sofie originally studied law and worked for several years in that sector, after which she began seeking other ways to assist people. This took her in the direction of Chinese medicine and exercise systems. With Taijiwuxigong, a Chinese system of energetic exercises, she discovered the importance of good posture: how to use your body more efficiently in order to feel more resilient.
Gradually she also felt the need for a more efficient way of communication. So she began learn non-violent communication, and followed the Mediation Training at the University of Antwerp.
At the same time she trained as teacher and coach at the Center for Body Language. This was a further logical step in the process to better understand people, and to assist in their process of developing self-awareness and finding a better connection with others.