Cosme Pacana
The Philippines' first Certified Micro Expressions PRACTITIONER & TRAINER by the Center of Body Language, Belgium.
Cosme's fascination with facial expression and body language started when he worked as Lay Missionary for 3 years and Legal Investigator also for 3 years. Both working experiences enabled him to grow in his ability to read facial expression, i.e. feelings and emotions of people that he counseled, as well as, the body language of witnesses and respondents that he interviewed in several cases, enabling him to detect whether a person is lying or telling the truth.
As a Facilitator/Trainer, he benchmarks with the finest training institutions and methodology in the world, namely:
Former Training Director, MASS-SPECC Institute of Cooperative Studies, Philippines
ASEAN Senior Management Training Program, Singapore
Trainer Certificate Course, American Society For Training & Development, (ASTD) Irvine, California, USA
Accredited / Licensed Trainer, Glasstap, Inc. UK, London
Trainers Training, Dual Training System (DTS) Hanns Seidel Foundation, Germany
2008 Global HR Excellence Leadership Award, Mumbai, India (Asia Pacific HRM Congress)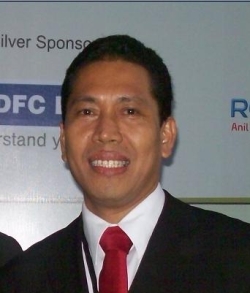 As a Communicator, he is a member of the Toastmasters Club International, Cagayan de Oro Chapter – the world's leading movement in communication and public speaking. He was awarded the Advance Toastmasters Silver (ATM-S) Award, having delivered and passed a total 35 project speeches.