Micro Expressions in business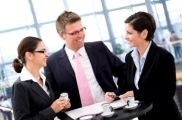 Your clients speak with facial expressions
The knowledge about Micro Expressions is crucial to understand people's needs and it is not possible to do successful business without comprehension of the expectations of your clients and employees. Many mistakes we make out of ignorance, or due to a wrong interpretation of someone's message. You think that your business partner is smiling in agreement but actually he is showing contempt or you are wasting your time talking with a potential client who is showing the Micro Expression of disgust in answer to your proposal.
Adapt what you say to what you see
Recognizing Micro Expressions sometimes can save your deal if you are able to read them on time, and react to them properly by adjusting your words to the non verbal signs. Many people report having problems in watching the face closely and listening to what somebody says. But actually it is a lot more effective to do this with the right technique. What you need to do is simply to check how the person reacts in the crucial moments of the conversation. And if you missed a micro expressions, the game is not lost, because you can often apply the Q4 technique that you can learn inside Micro Expressions Training Videos.
Click here to test how good you are in reading micro expressions
Micro expressions are your compass
Using the metaphor of a ship on the ocean, as a captain you need a compass to steer the ship in the right direction. The same happens with negotiations: you need to recognize Micro Expressions and use them as milestones or orientation points to adjust your words to the expectations of your client. If you see a frown on their face when you mention the price, give them an extra bonus or explain more why the product is worth paying this amount of money. Sometimes you need to react quickly before the person will make the negative conclusion about the offer. When they express thoughts verbally it will be, in some cases, too late to change their minds.
– published by Kasia Wezowski
---
Would you like to learn more about facial expressions and body language?
If you liked this article, watch also the replay of our webinar on
Body Language & Millionaire's strategies to win in business
with 3 TOP Speakers: Stephanie Frank (inspirational speaker and millionaire) and
Patryk Wezowski & Kasia Wezowski
(Europe's leading Body Language Experts)

This webinar is over. Watch the replay of this webinar now by registering with the form to the right.

This webinar is very useful for people who would like to become millionaires, people involved in Sales, HR, Management, Leadership, Presentations and Negotiations and all the people who are interested in emotional intelligence, human relations and personal growth.
>> Click here for more information about this webinar