Body Language Training for Sales
Master Body Language in Sales
Your Sales Results Will Improve after our unique training, or you receive 100% refund
How it works?
1. Follow our online
Sales Training


Register for our Body Language for Sales Training below

2. BEFORE and AFTER measured


You compare your sales results BEFORE and AFTER our training

3. 100% Guaranteed Results
Our Body Language Training
for Sales Professionals results in:

More closed deals
A decisive advantage in negotiations
Knowing exactly what your client needs
Saving time because you see answers just by watching body language

What research has shown:

In one international pharmaceutical company, the top 3 sales representatives scored on average 50% on the first Micro Expressions Test, while the lower-end sellers scored on average 5%. The persons who scored the best on our Micro Expressions Test also sold on average 25% more products compared to low-scorers. In a top insurance company, we measured that the top-half of sales representatives had a 20% higher Micro Expressions Test score than the lower-half sellers. These studies have shown that those who are better in reading Micro Expressions sell more products.
CONTENT – What we teach:

Discover how to read facial expressions and body language
Learn to quickly adjust your words according to what you see
Identify the needs of your clients by seeing what they think or feel
Integrate the strategies of the best sellers and negotiators
Learn our powerful BLINK Conversation Technique™ in sales
Discover how to lead Effective Conversations™

BENEFITS – What you get:

A powerful combination of sales strategies based on observations of many successful salespeople and negotiators in the world which will help you to:

Read your client's facial expressions to identify hot prospects in the first 5 minutes of conversation
Detect what your client is hiding from you
Learn to use our BLINK Conversation Technique™, which will help you to adjust your sales argument by interpreting the body language information you get from your client
Know exactly what to say to convince your clients by responding appropriately to what you see in their body language
About us:

Patryk Wezowski and Kasia Wezowski – Founders of the Center for Body Language, the World's #1 Body Language Training for Business: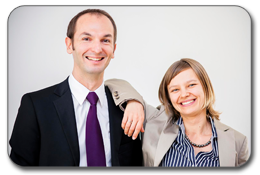 Founders of the #1 Body Language Training for Business
Best Selling Authors of "The Micro Expressions Book for Business" and 2 other books
Celebrity analysis throughout international media (CBS, Fox, Forbes,…)
Creators of the world's first and only Micro Expressions Training with Videos
Founders of the first International Certification standard for Body Language and Micro Expressions Training for Practitioners, Coaches and Trainers
Local Representatives in over 15 countries
Executive Producers of the Award Winning Documentary "Destressed"
International Speakers (speaking at Harvard University, TEDx, Top Conferences…)
Thought Leaders and Developers of a unique Body Language methodology tailored for business people
More about us:
See us in action in New York:
Course Overview:
4 weeks Advanced Sales Training
Personally with the Creators of METV
Includes:

A free 1 year METV license
Most advanced online training on how to use the science of micro expressions in sales situations
Over 12 hours of interactive training
Live personal Q&A to answer all your questions about the training content
How to use the BLINK Conversation Technique™ to get answers without asking questions
Effective Conversations™ Training to know exactly what to say when you detect incongruence
Practical and tailored for Sales and Negotiations
100% Guarantee: If you score over 90% on our micro expressions every time after our training and your sales results do not improve compared to your colleagues, we refund 100% of your training fee

This video explains more details of this Online Training:

Register with the form below to join our Online Body Language in Sales Training:
Complete payment in USD (For USA: $347)